The Crew
We are a fun loving, professional and discreet crew. One of our attributes is a canny ability to read the requirements of our charter clients before they need anything, but most importantly, we emphasize the necessity to read how guests wish to be treated, not everyone wants the crew shadowing their every move. We believe in a much more dynamic way of making sure you get the 6 star plus service that you have chartered our yacht for.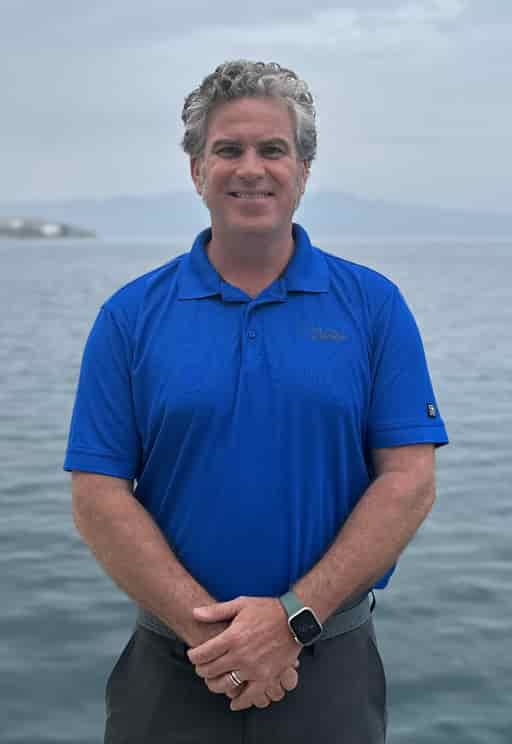 Captain – Paul Mcwilliams
Paul started in the yachting industry in 1998, since then he has worked on huge varity of vessels from high speed performance yachts to classic sailing schooners. He has been captain of Latiko for 14 years. "Every year I aim to make the charter experience even better than the last, the bed rock of this is making sure we have the very best crew, and by presenting the vessel in top condition"
Chief Mate – Luke McCullough
Luke has been working on yachts since 2007, during which he has cruised extensively in the Mediterranean, Middle East, Caribbean and the US. Previous to the yachting industry Luke has been a keen engineer, as a profession, and in his spare time building off road vehicles. Luke is in charge of the deck and looking forward to making sure you all have a safe and fun time on the water.
Chief Engineer – Sam Smith
Sam started his carrier at sea as a fisher man in 2003, operating out of his home county of Cornwall, UK. Since then he has combined his passion for surfing and all thing mechanical, to travel, and progress through the ranks in the yachting industry. Sam is also a great DJ, and when he is not at work he is fixing up his car collection whilst keeping one eye on the Crypto currency market.
Chef - John Smith
As a professional chef for 20+ years and having growing up in the hospitality business in his families hotel in Wales, John really knows his job, his food is extremely well balanced and of the very highest quality. John's accolades as a chef are numerous, but most recently he made the finales of Master Chef "the professionals". John is looking forward to delivering you the very best culinary experiences you have had onboard or ashore.
Chief Stewardess – Lucy Williams
Lucy has worked onboard Latiko for 3 years since 2015. During that time she has been working on other large superyachts, both charter and private operations. This year Lucy has seen the light, and returned to lead the interior team for 2021. Lucy's experience and knowledge will ensure that your charter is delivered to the highest standard.
Bosun - Noel Seveso
Noel brings a wealth of maritime experience to the team, since 2014 she has been a deck officer in the commercial shipping industry, prior to which she was in the Uruguayan Navy for 4.5 years, where she attained her deck officer qualification. Noel's experience of managing safety and shipboard operations is excellent, skills she transferred into the yachting industry in 2018. Noel is a budding artist and has been following an online course this winter.
Maddy Scott
After finishing her degree in communications in Auckland, Maddy aspired to combine her work with a passion for travel, the super yacht industry was a logical choice. Since 2018 Maddy has been working on very high profile charter yachts, while bring her experience and skill set up to hold a senior stewardess role. Maddy grew up next to the ocean in Tauranga, New Zealand, and has a great passion for all things on and in the water.
3rd Stewardess - Kate Singleton
Kate has been working with her partner Adam in the flotilla sector of the yachting industry since 2016, this has comprised of seasonal positions where she was responsible for all the catering and up keep of the whole vessel. Her skill set has transferred excellently into her first position in our sector of the industry. Kate is a keen artist and likes to keep fit, in particularly she loves running, and has recently completed her first half marathon.
Deck Hand - Adam Bermingham
Adam is probably the most qualified and capable deck hand in the industry! He is a captain in his own right, he has been running flotilla yachts and most recently a power catamaran with his fiancée Kate since 2016. Suffice to say he has the skill set to make sure you are well looked after on the water. Adam is an adventurous character who loves mountain biking and winter sports.